Decidimos quedar para ir a ver la exposicion de
Momodoch
y encontrarnos con algunas personas allí. Al final, de todos los que en un principio ibamos, solo fuimos 5, pero que decir, estuvo muy bien a pesar de echar de menos a ciertas personas >_<*

We went to
Momodoch
exhibition with some friends. We were only 5 but I was good with those people althought I missed a lot some people >_<*


Aqui la princesa Merkades esperando a su caballero...
Here the princess Merkades waiting for his gentleman...


Tan guapa como una estrella de cine...
As beautiful as a cinema star...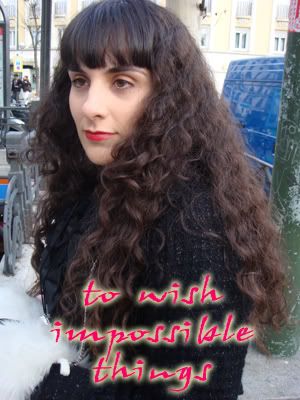 Finalmente, cuando la gente llegó, fuimos al Café & lugar de la exposición:
Entrelineas Bar

Finally when people arrived we go to the Café & exhibition place:
Entrelineas Bar


Es un sitio muy pequeño pero acogedor, y ademas tienen unos tes y tartas increibles! Mirad nuestra merienda!

It's a small place but very warm, and there are excellent teas and cakes!!! Look our afternoon snak!


Y por supuesto, nuestra razon para ir:
Momodoch
.
Muchos sentimientos a flor de piel.

Of course, our reason to go there:
Momodoch
.
Sprouting feelings.


Nos gustó tanto, que una semana despues repetimos... lo podeis ver en
Dolls Stories
.

We like it so much, so one week after we go back again... you can see it in
Dolls Stories
.
Y finalmente... la visita de este fin de semana --> El mundo de Alicia desde el punto de Tim Burton.

And finally... my visit for this weekend --> Alice's world from Tim Burton's view.